Dual Display Kinetic Automatic Watch Winder/Charger model:Time Tutelary-G2-K
Dual Display Kinetic Automatic Watch Winder/Charger model:Time Tutelary-G2-K
This is a purpose engineered Kinetic Watch Charger
that can also wind Automatic watches
Constructed to produce the required rocking
motions that will charge a Kinetic Watch
It can also be used as a regular Watch Winder
for Automatic watches
The Winder is constructed of lightweight tough Plastic
with a porthole style magnetic lock door.
Its modern design and extremely
small foot print allows it to be placed virtually anywhere
High quality super silent Japanese Mabuchi
Belt-drive motors turn the cups
holding the spring loaded watch mounts;
they will accommodate small as
well as large diameter watch bracelets/straps
All controls are easily accessible at the back of the winder.
The magnetic lockable door protects your precious watches from dust and allows them to be viewed.
Watches are securely mounted on the spring loaded holders-
compressible watch mounts accommodate small/large wrists
The Black/ Aluminium mix of colours will complement
virtually any modern decor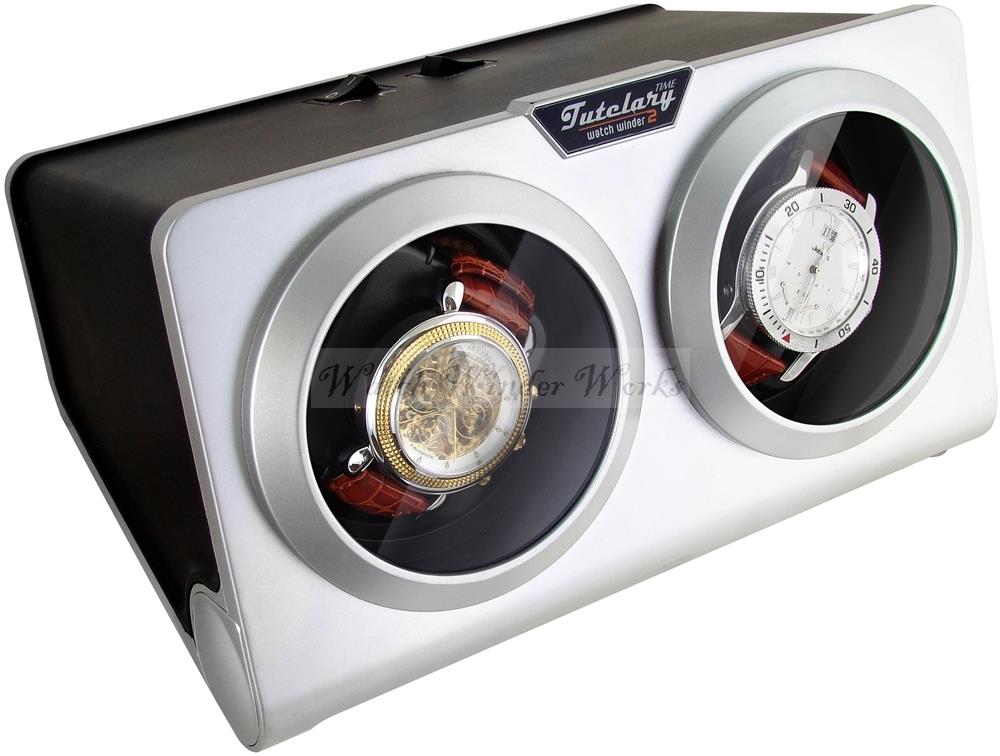 Specifications:
Design: Automatic Kinetic Watch Winder for two watches
Construction: High quality durable plastic
Colour: Black/Aluminium
Porthole style door with acrylic transparent windows; magnetic lock
Interior: High quality durable black plastic
Program logic ensures sufficient rocking oscillations
are performed to fully charge a Kinetic Watch
Suitable for oversize watches
Electronically controlled - 110V-240V OZ compliant AC Adapter
(included) Global switching AC adapter will work in any country-
(we will supply correct fitting to fit your wall socket)
Easy to use
Rotations: clockwise, counter-clockwise (with resting periods)
Cups rotate 1 hour and rest 3 hours
Precise user instructions showing correct positioning
of your watch on the watch mounts to achieve maxm. pendular swings
12 months warranty on workmanship & motors/electronics
30 days no questions asked money back guarantee
(buyer pays return postage) if the product does not fully meet
with your expectations.
shipped registered & insured in transit-proof packaging

Weight: approx: 0.9Kg -
Dimensions: W260xD145xH128 mm
Watches not included
Recommended For All Kinetic Watches