Select your add-on FANCY BOXY Bricks model 1FB-S-CLRS to expand your modular system
DOES NOT INCLUDE AN AC ADAPTER!
(Initially purchase the starter system 1FB-F which includes an AC adapter)

click here to view model 1FB-F
Black model featured-
Choose from seven different Super Gloss colours below
See discount pricing on quantity buys below
All add-on FANCY BOXY bricks are supplied with a precise user manual & polishing cloth in a gift presentation box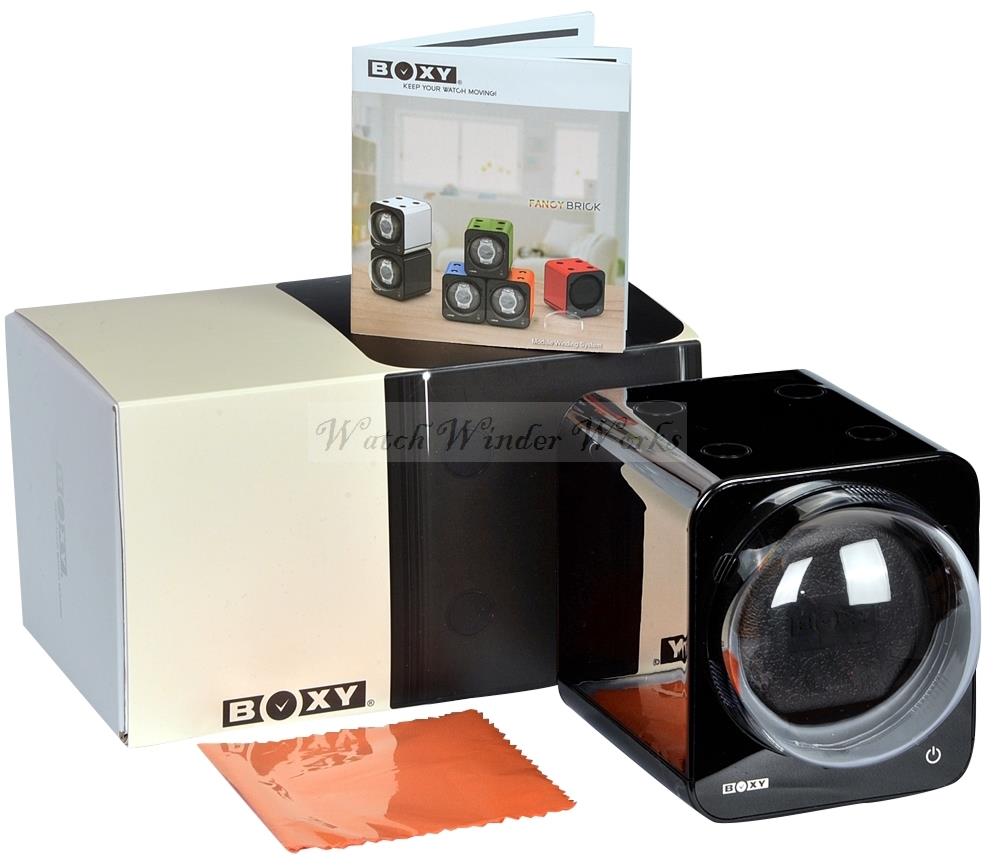 available in seven Super Gloss colours shown below
please select colour when placing order

Select the colour and number of add-on bricks to build your system; You will require an AC adapter or purchase the starter system model 1FB-F which includes the AC adapter. A single AC adapter can power a system stack of up to 12 bricks using our optional Power Extension Board-4, Base Station-4+6 or Timber housing

click here to view the entire range of BOXY BRICK ACCESSORIES
A high-clearance acrylic twist-on dome protects your timepieces from dust and allows an unobstructed view
Even the largest/thickest watch cases can be accommodated easily on the compressible PU foam pillow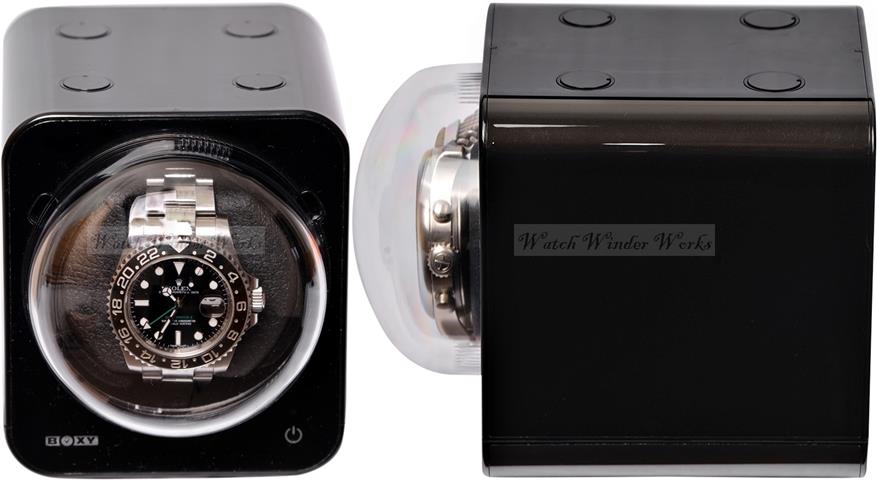 Watch mounting pillow will accommodate small/large as well as heavy watches by positioning across two different diameters along the pillow as shown below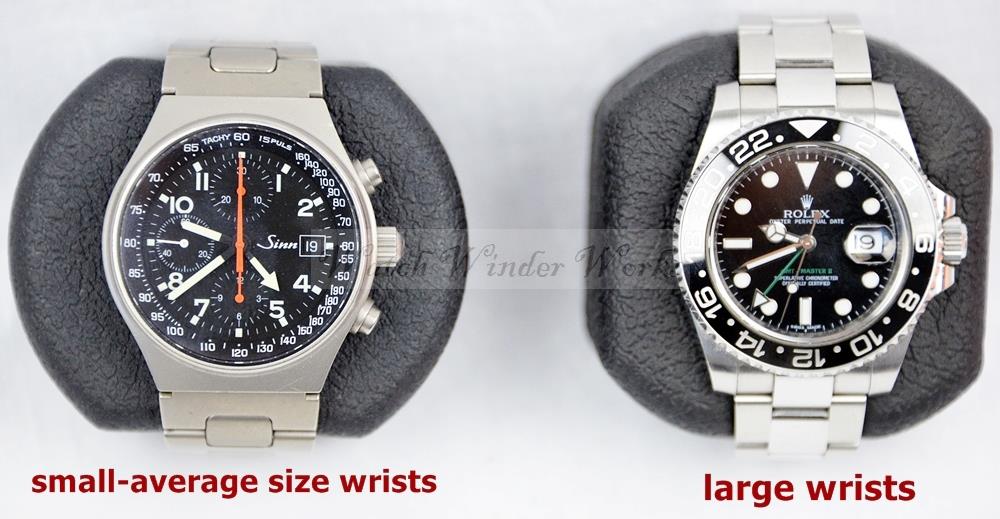 you can mix-and-match to your
"FANCY's" delight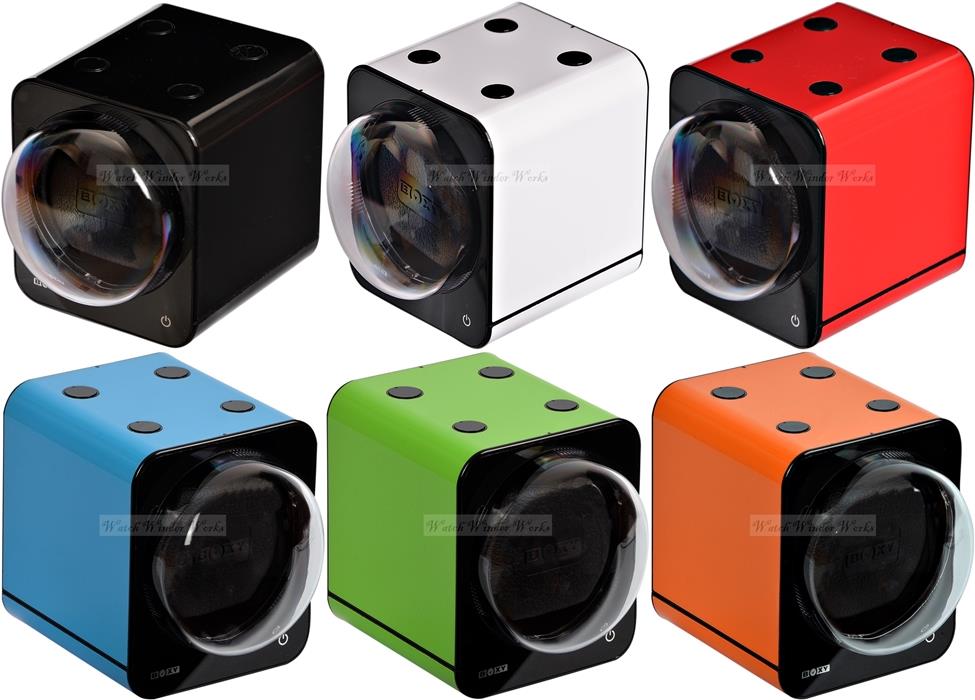 Delectable choice of Super Gloss colours-please select when purchasing
The base of each brick exposes the four dip switches which allow 15 individual TPD (turns per day) settings
Your watch will love it!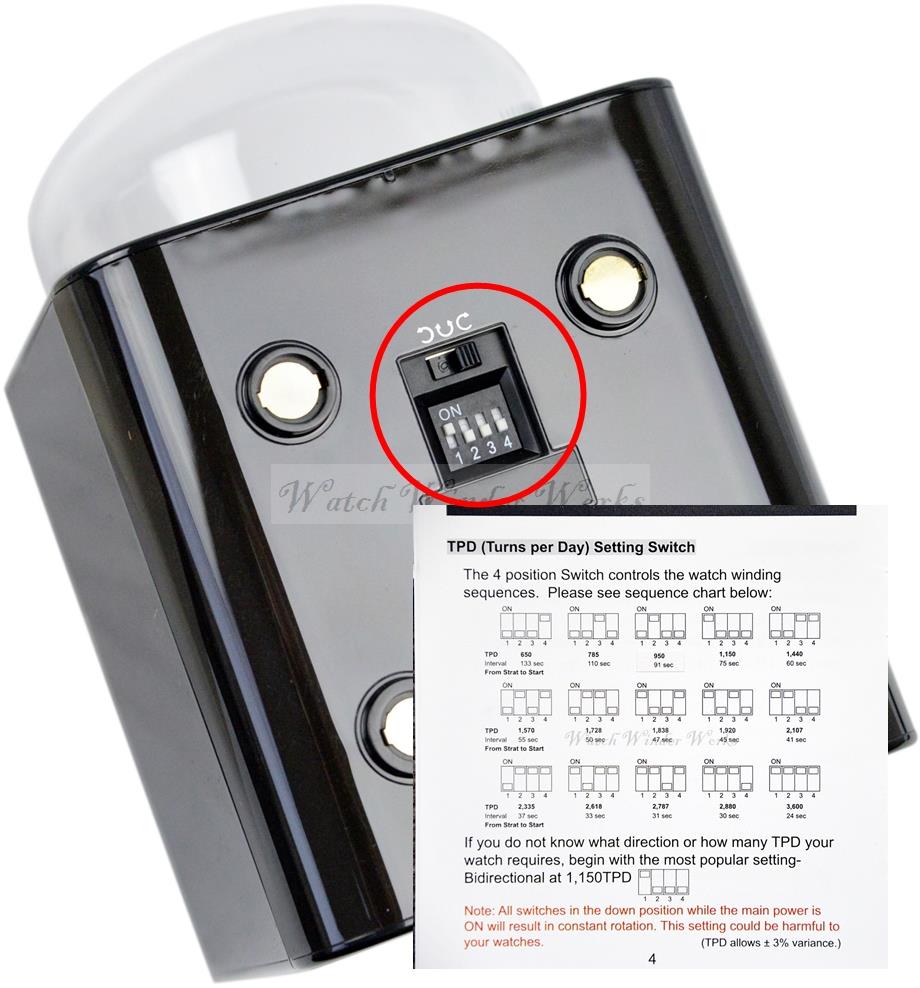 Four electrical contacts on top and bottom of each Brick Automatic Watch Winder allow the power to be transmitted through the stack-Brilliant!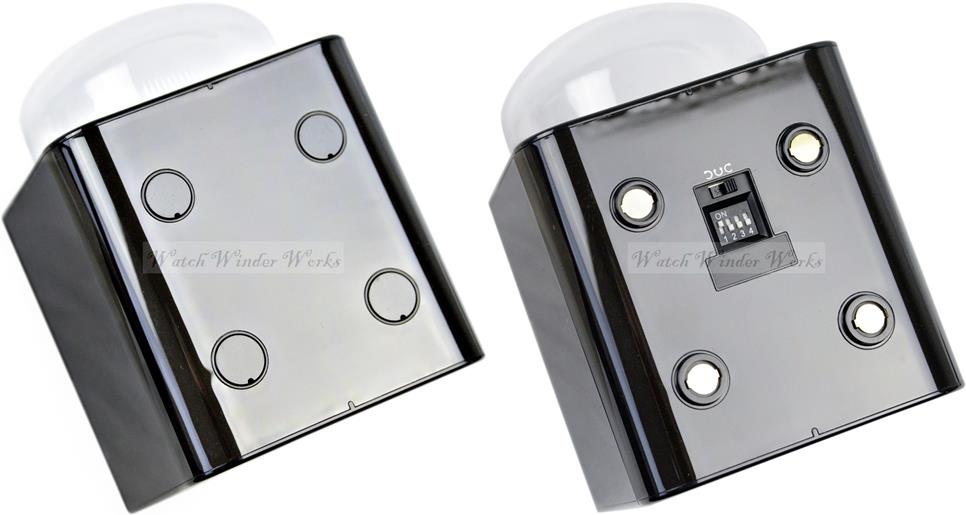 The ON/OFF touch control switch on the lower front right blends unobtrusively into the design; an LED glows dimly during operation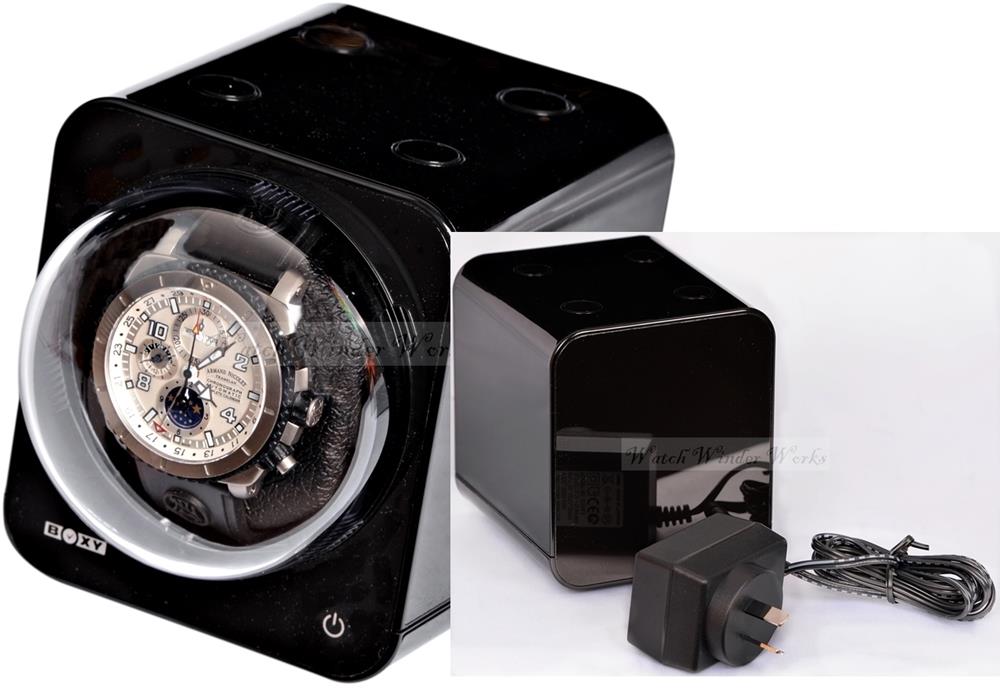 A humble paper clip is all that is needed to remove the protective discs prior to stacking another brick to facilitate electrical contact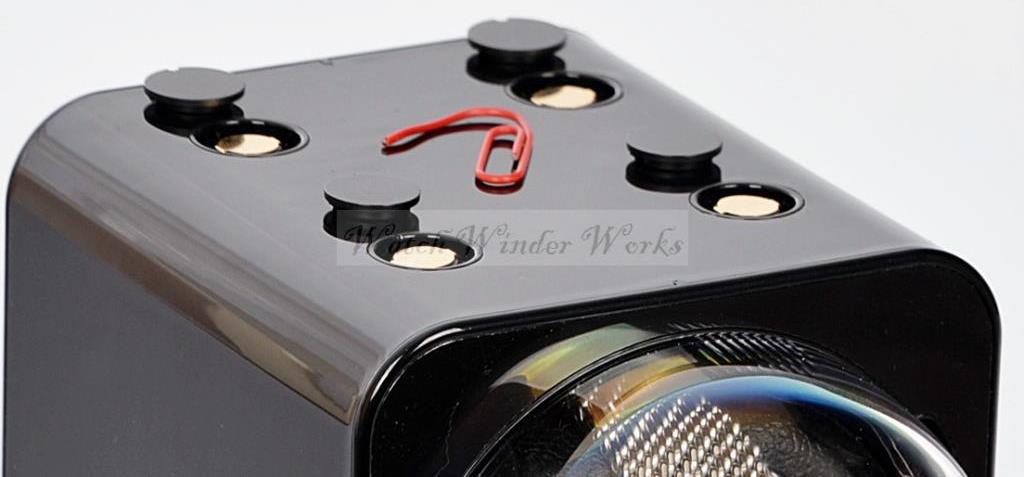 A stylish sophisticated winder to pamper any watch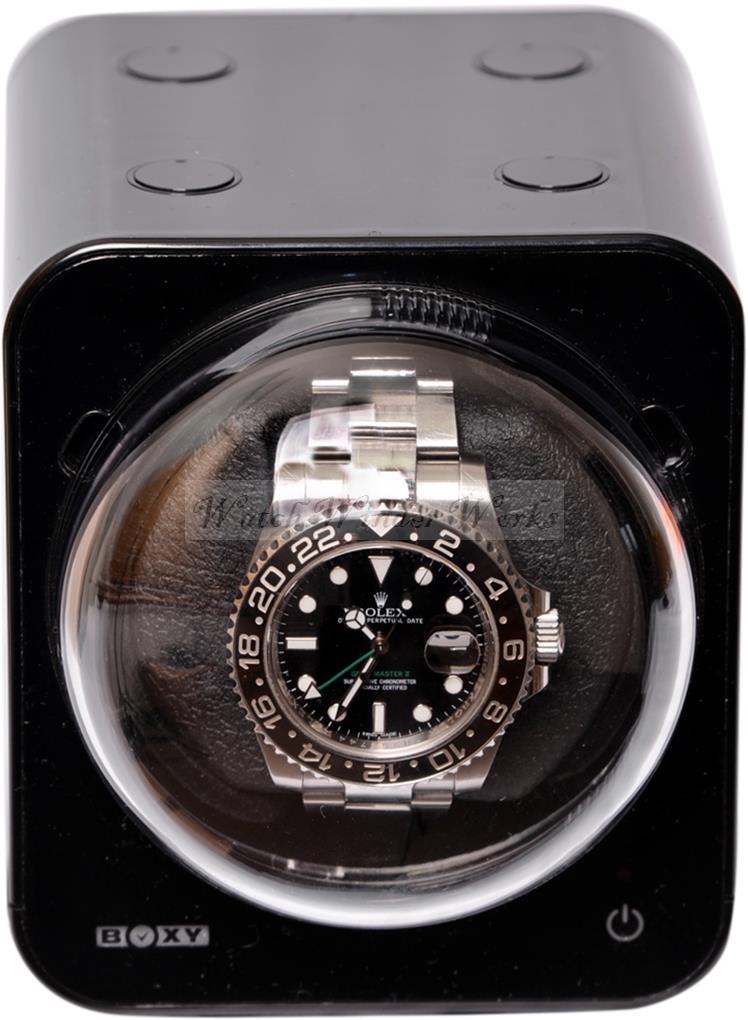 Some examples of mix-and-match modular stacks/systems
Video below does not show extended resting periods;
rotations are smooth and gentle
Internal light sensors monitor the accuracy of the TPD and rotation position and ensure that the selected TPD are completed even when external supply Voltage fluctuates!

Rotations always stop at the same upright position of the watch dial!
Most other watch winders do not return to the starting position but are time controlled and will stop at different orientations.
You can add extra Brick modules as your collection grows; one AC Adapter will power up to twelve bricks!
System includes:
1x Genuine add-on "Boxy" Brand

F

A

N

C

Y

Brick Automatic Watch Winder

NO AC Adapter!

Owner's Manual

Polishing cloth

Specifications:
Design: Genuine "BOXY" Brand

F

A

N

C

Y

add-on Brick Automatic Watch Winder for one watch- model:1FB-S

Colour: Choose from seven Super Gloss colours-

Black

,

White

,

Blue

,

Green

,

Orange

,

Red



Suitable for oversize watches & large diameter bracelets/straps
High quality super silent Japanese Mabuchi belt-drive motors
Easy to use

Electronically controlled; AC ADAPTER NOT INCLUDED! (Purchase model 1FB-F which includes the AC adapter)

Each brick winder module is individually controlled

Rotations: clockwise, counter-clockwise or auto bi-directional

TPD (turns per day): 650-3600

- 15 TPD settings, dip switch controlled; these comply with all automatic watch manufacturers' TPD specifications

Precise user instructions
24 months warranty on workmanship & motors/electronics
30 days no questions asked money back guarantee (buyer pays return postage) if the product does not fully meet with your expectations

shipped in transit-proof packaging
Dimensions: 110H x 98W x 140L mm
Weight: 0.5Kg approx.
Watches not included

Recommended for High-End Luxury Timepieces