Single Display Automatic Watch Winder in pearlescent Black or glossy White-Atom-1BPL/WPL
Single Display Automatic Watch Winder in pearlescent Black or glossy White-Atom-1BPL/WPL
Compact Single Display Automatic Watch Winder
model: Atom-1BPL/WPL
(=Diplomat With Built In IC Timer)
Super efficient & reliable at an incredibly LOW PRICE!
Don't be distracted by its size-
It may look like a David-But IT CAN DO THE JOB OF A GOLIATH!
Constructed of lightweight tough durable Plastic with a crystal clear acrylic lid. Its modern design and extremely small foot print allows it to be placed virtually anywhere.
A High Quality super silent Japanese Mabuchi Belt-drive motor turns the cup containing the spring loaded watch mount
It will accommodate small as well as large diameter watch bracelets/straps-
All controls are easily accessible at the back of the winder. The transparent lid protects your precious watch from dust and allows it to be viewed
-Important Information For Our International Customers-
All our AC Adapters are of the switchable type and are rated 110V-240V suitable for the Global market eg. USA, Europe, Asia, Russia etc.
All you need is obtain a local "travel" converter for your wall power outlet-
Don't miss out on our un-matchable low prices!
Black with a touch of iridescence
Pearlescent Black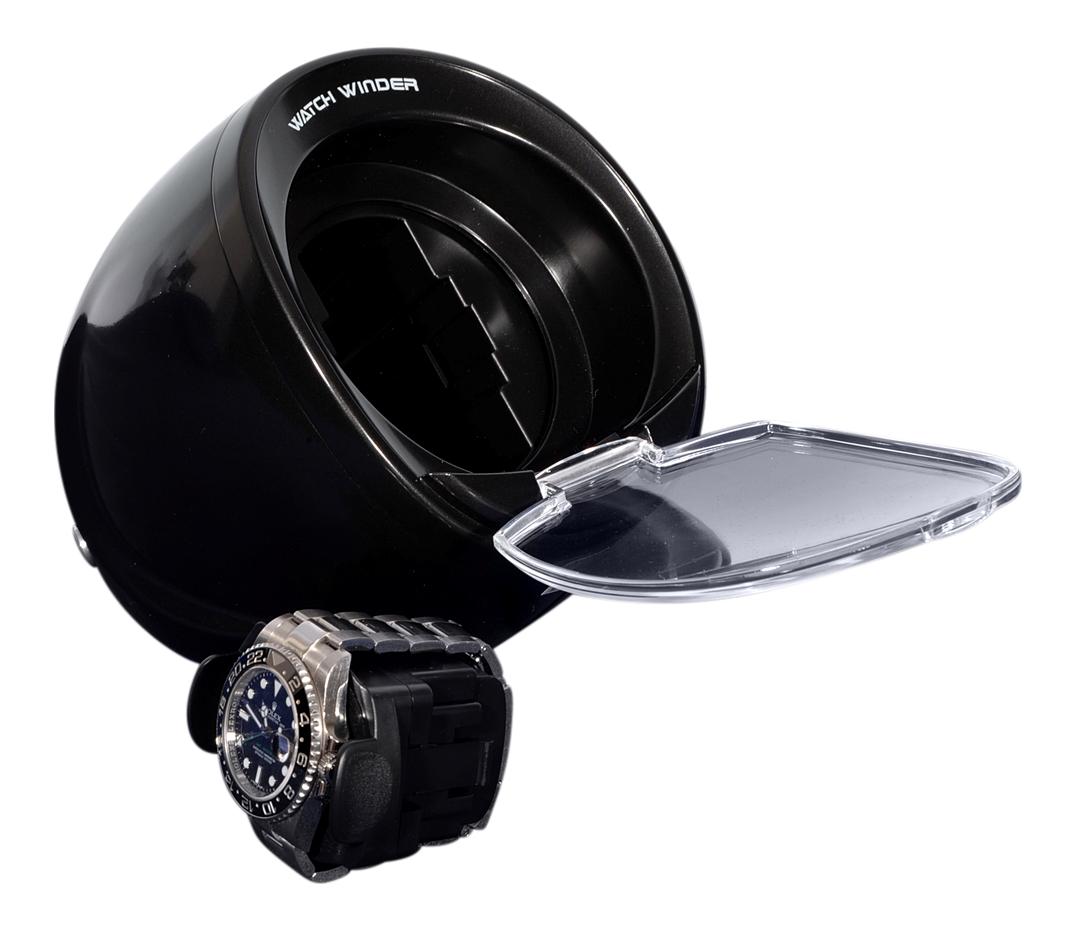 Also available in Glossy Ivory White
Glossy Ivory White
Alternate size watch mounts are available for wrist circumferences under 17cm (exclusive to Watch Winder Works)

Electronics allow clockwise or anti-clockwise winder program selection and comply with all manufacturers' minimum TPD (turns per day) specifications.
Watches are securely mounted on a felt lined base

Precise user manual, OZ compliant AC adapter

Specifications:
Design: Single Automatic Watch Winder
Construction: High quality durable plastic
Colours available: Black, White,
Transparent lid
Interior: High quality durable black plastic
High quality super silent Japanese Mabuchi belt-drive motor

Program logic ensures correct minimum TPD e.g. Rolex, Omega, Breitling, Tag Heuer etc

Suitable for oversize watches; small-wrist watch mounts available
Felt lined base to protect your surface
Easy to use
Electronically controlled - 100V-240V OZ compliant switching (Global)AC Adapter (included)
Rotations: clockwise, counter-clockwise (with resting periods)
TPD (turns per day)-Cup rotates 1 hour and rest 3 hours-and covers all automatic watch manufacturers' minimum TPD requirements
Precise user instructions
12 months warranty on workmanship & motor/electronics
30 days no questions asked money back guarantee (buyer pays return postage) if the product does not fully meet with your expectations
shipped by registered, insured courier in transit-proof packaging

Weight: approx: 0.4Kg -
Dimensions: W128xD140xH156 mm
Watches not included
Video below does not show extended resting periods
rotations are smooth and gentle


Recommended for High-End Luxury Timepieces
AUD 127.00
AUD 104.00
(Save 18%)